Whiteflash: A Cut Above
Some companies just know how to provide good service. It usually comes down to one thing: Core values. You'd be surprised how important this factor is in how any company's employees behave toward their customers. Sure you can dismiss company guidelines and core values as rather boring stuff or mere marketing fluff. But invariably when a company is run by people that have high standards it comes through in how their staff handles clients. In the years I have worked with Whiteflash I have found their core values form a strong foundation for their interactions. The genuine desire to excel comes through on the phone, it comes through in the way they word their emails, it comes through in the way they treat their customers and affiliates. The core values distinguish Whiteflash were contributed to from their whole team and represent their own aspirations. So what does this mean for you? Well, the quality of Whiteflash's offerings clearly reflects their commitment to excellence. Add to that the fact that they made a special point of becoming ISO 9000 certified for their Quality Management Systems. This alone demonstrates Whiteflash's commitment to excellence. This is a distinction which no one can beat as Whiteflash is the first jewelry company in the world to have achieved this prestigious distinction. What you will love about Whiteflash is that you can shop top quality diamonds and a full line of engagement rings and fine jewelry from top brands including Tacori, Verragio, and Simon G, while receiving pressure-free guidance from their team of GIA and AGS trained jewelry professionals. As members of the American Gem Society, an organization dedicated to consumer protection and education, Whiteflash keeps a laser focus on the customer experience.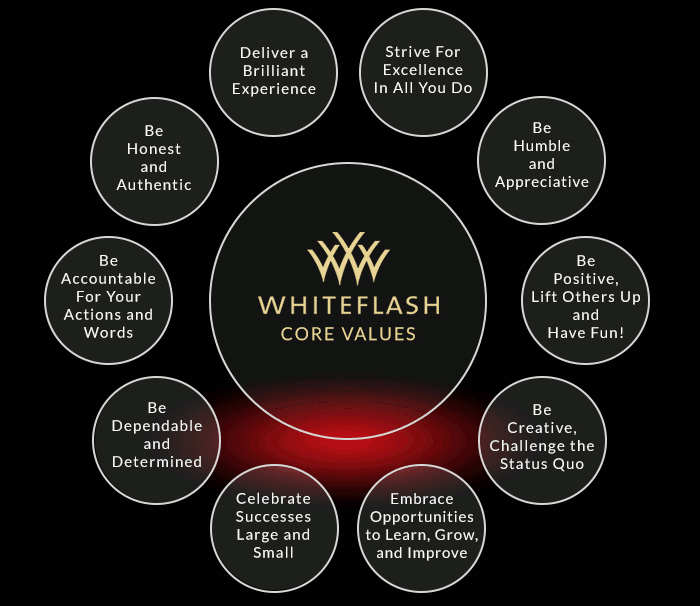 Diamonds With Superior Sparkle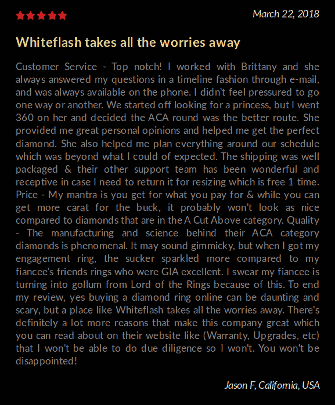 Jason, a customer from California, who was impressed with Whiteflash's warranty, upgrades, return policy, and professionalism, commented that the quality of A Cut Above diamonds is phenomenal. He always knew that you usually get what you pay for, and noted that this is definitely the case with Whiteflash diamonds. It is the superior sparkle of the signature Whiteflash diamonds, A Cut Above, that make shopping at Whiteflash absolutely worth it. Even though his friends all had bought GIA excellent diamonds for their fiancees he noticed a stark difference between the sheer brilliance of the one he'd bought. Another benefit Jason was very happy for was the dedicated help he got from Brittany at Whiteflash. At first he was thinking of getting a princess and then changed his mind to getting a round brilliant. Brittany helped his get the perfect diamond, helped him plan everything around Jason's schedule. He'd had concerns about buying a diamond online, but found that dealing with Whiteflash took all his worries away.
A Business Built to Deliver
Whiteflash diamonds are truly amazing. But the woman behind this company is why it is the way it is. Great product, but also a great team. Whiteflash started in 2000. The company was founded by Deborah Wexler. She'd already had experience starting up successful businesses. The first company she started up was Microcomputer Power Inc (MCP). That was in 1982 and she'd only had $5000 in personal savings with which to work. She built that business into a large business worth $70 million. The company offices in Houston, St. Louis, Washington DC, and Seattle. In 1989 Ms. Wexler was awarded Entrepreneur of the Year by Arthur Young and Inc. Magazine, and MCP was named 148th fastest growing company in the U.S.A. In 1995 AmeriData/GE Information Technology Solutions (GE-ITS) acquired MCP and Deborah stayed on as an Executive Vice President responsible for the South Texas region until 1998. Under her leadership the division's annual revenue went from $70 million to $120 million. She ran the most profitable region at GE-ITS by maintaining the lowest personnel turnover rate and the highest pre-tax income. In 2000 Ms. Wexler founded Whiteflash to sell top quality diamonds directly to the public on the Internet. Her specialties made this venture as successful as it is: business development, human resources development, sales and team building. Deborah holds a BA in linguistics from Michigan State University and is a graduate of the Falcon Asian Program at Cornell University. Oh, and she is fluent in Russian, Japanese and Spanish.
Whiteflash's Best Features
Here is a round up of all the main features that you get when buying from Whiteflash. It's easy to miss some of these features when thinking about buying a diamond. But a company such as Whiteflash is building a long term relationship with its customers. The way they do so is by providing a range of benefits that will prove to be vital. While it may seem like marketing fluff, you'll be glad to have the options if the time arrives and you would like to
One Year Buy Back Guarantee
A solid buy-back guarantee significantly reduces the risk and the stress associated with purchasing a diamond. To help reduce the stress of your diamond buying experience Whiteflash offers a One Year Buy Back Guarantee on the purchase of any Whiteflash in-house certified diamond. Diamonds from their A CUT ABOVE®, Expert Selection, and Premium Select categories are automatically covered by this benefit, an important part of the comprehensive assurance package – The Whiteflash Guarantee. If for any reason you should want to sell your diamond after your 30 day return period, Whiteflash will buy qualifying diamonds back at 70% of the diamond's purchase price. This benefit is guaranteed for one year from the date of your invoice. The purpose of this benefit is to significantly reduce the risk and uncertainty surrounding making a high dollar purchase. For example, when making a transaction of $5,000 the actual risk is limited to $1,500 if the purchase does not work out for any reason. (70% x $5,000 = $3,500 will be refunded to you). You are completely covered under the full money back guarantee for the first 30 days and the 70% buy back guarantee for an additional eleven months, relieving much of the stress associated with a purchase of this importance. Customers outside the one year period who wish to sell their Whiteflash diamonds are cordially invited to contact Whiteflash. The company strives to meet customers' needs and depending on inventory levels and market factors are often able to accommodate longer term buy back requests. Diamonds from the Virtual Selection category, or diamonds that might be sourced for you, are not part of the in-house inventory and are therefore not included in this benefit.
One Year Service Guarantee
You can have full confidence in your jewelry purchase from Whiteflash knowing that any maintenance issues are covered for an entire year. All Whiteflash jewelry orders are backed by a One Year Service Policy. This benefit covers refinishing and repairs to the metals and accent diamonds in your jewelry that are the result of normal wear or manufacturing defects, for a period of one year from ship date. This Whiteflash benefit is in addition to any guarantees applicable to items from the catalogs of their designer brands. Your Whiteflash jewelry is built to be durable and should be worn and enjoyed. However, gold and platinum can be damaged and will experience some level of wear and tear over time, and some designs such as diamond pavé are more delicate than others. It is wise to take lifestyle in to consideration when making your jewelry choices. Important information relating to proper care can be found on the Jewelry Care Essentials page. All costs for materials, labor and handling are covered by Whiteflash. Inbound shipping and insurance to Whiteflash for service is the responsibility of the customer. Complimentary FedEx return shipping and insurance to destinations within the US and Canada is provided by Whiteflash as part of the One Year Service Policy upon completion of servicing. Please see the returns policy page for more information on the process for delivering your valuables to Whiteflash securely. Your items will be carefully inspected and documented upon receipt. The requested work will be performed in a prompt and careful manner. Should any of the required work be found to be the result of something other than normal wear or manufacturing defect, you will be advised of the specifics as well as associated fees, before work is commenced. One Year Service Policy does not cover damage or loss to certified diamonds or colored gemstones. You'll want to consider personal jewelry insurance for that. The one year service policy is void if work has been performed by another jeweler. Whiteflash are dedicated to servicing your jewelry whenever the need arises. Should your jewelry need servicing outside of the one year period, Whiteflash will be happy to assist you. Simply return the item to Whiteflash for evaluation by following their secure returns process. It will be reviewed by their dedicated customer service team and you will be advised of services recommended as well as associated fees and time-frames before any work is done. Fees for repairs or other servicing on your jewelry, as well as shipping and insurance, beyond the one year Whiteflash Service Policy period are the sole responsibility of the customer. Customers are highly encouraged to consider personal jewelry insurance, such as that provided by Jewelers Mutual, which can cover all repairs large and small.
Complimentary Ring Sizing
In addition to the benefits under the One Year Service Plan, Whiteflash provides one free ring sizing. While they do encourage customers to determine the correct ring size at the time of the order, Whiteflash offers one complimentary sizing within a period of one year from the date of purchase on most rings. Certain designs cannot be sized, have limited ranges within which they can be sized, or will involve additional fees. It's a good idea to contact customer service for specific clarification. All labor, materials and handling required for sizing are provided by Whiteflash free of charge. Shipping and insurance to and from Whiteflash are the customer's responsibility. For important details about secure shipping and costs have a look at their shipping policy page.
Complete Satisfaction – Money Back Guarantee
There is nothing more important than having peace of mind when making an important purchase for a very special occasion. The Whiteflash mission is to deliver A Brilliant Diamond Buying Experience® to each and every customer. To assure your complete satisfaction Whiteflash offers a "no questions asked" 30 Day 100% Money Back Guarantee on all in-house Whiteflash certified diamonds, including diamonds from their A CUT ABOVE®, Expert Selection, and Premium Select categories. The 30 day guarantee also applies to all regular catalog settings into which these diamonds may be mounted, as well as all regular catalog jewelry items. The money back guarantee is a fundamental part of The Whiteflash Guarantee, the most comprehensive package of assurances, benefits and guarantees in the jewelry industry today. Certified Diamonds from the Whiteflash Virtual Selection category, and other diamonds that they may source for you, are similarly backed by a 10 Day Money Back Guarantee. Settings containing these diamonds must also be returned within 10 days to be eligible for refund. If you are not completely satisfied with the diamond for any reason simply call customer service and receive a return authorization number (RA#) and instructions for securely shipping the diamond back to Whiteflash. Returns must be postmarked within the inspection period which begins the day the diamond is available for you to pick up. Should your Virtual Selection diamond be part of an order that will not be delivered within the 10 day inspection period, you will have the option to first take delivery of the loose diamond for the purposes of your inspection period and return it to them to complete your order, or you may elect to waive your inspection period so that your order may proceed without delay. Please contact your diamond consultant or customer service for any questions regarding the services or policies. If for any reason you are not completely satisfied with your purchase, simply return the item to Whiteflash for your choice of a full refund or exchange. Jewelry items that have been modified to customer specified requirements (other than normal sizing or engraving), non-catalog special order items, and full eternity rings are not returnable. Whiteflash custom jewelry design service is a step-by-step process that allows for a clear understanding and approval of the design features of the item before production, and are therefore not returnable. *Should a problem be the result of an error on the part of Whiteflash, the item will be returnable.
Straightforward Return Process
Whiteflash's return period begins on the date the item arrives at your FedEx hold location, the first day the product would have been delivered should you request a delayed delivery, or on the first day it is ready for in-store pickup. Returns must be postmarked by the last day of the applicable return period. All items shipped and received by Whiteflash are thoroughly inspected under high resolution video cameras according to ISO 9000 quality control procedures. Items must be returned in original condition together will all related documentation. Upon verification your return will be processed and a refund issued within 10 business days. Your refund will consist of the full purchase price of the refunded item (s), and will be made by either credit card credit or by company check depending on your method of payment.
The Whiteflash Guarantee
The Whiteflash Guarantee is a comprehensive set of policies, practices and benefits that wrap your purchase in the very best assurance package available in the jewelry industry today. It starts with state-of-the-art manufacturing by a veteran team of highly skilled jewelers, and a large in-house inventory of laboratory graded, precision cut diamonds thoroughly analyzed by GIA and AGS trained Whiteflash gemologists, and imaged by a team of professional staff photographers. Every item that Whiteflash sells is processed through a multi-stage quality control system certified by ISO 9000 ensuring the highest level of quality, consistency and dependability. Whiteflash is one of the few jewelers in the world to have achieved this level of quality assurance. Each sparkling piece is also delivered in the finest packaging available, assuring a presentation as elegant and impressive as the jewelry contained within.
Conflict Free Diamonds Guarantee
All diamonds sold by Whiteflash are secured through legitimate sources not involved in funding conflict and are guaranteed to be conflict free. Whiteflash will only deal with suppliers who warrant that they operate in strict compliance with United Nations Resolutions, the Kimberley Process and the USA Patriot Act. For an in-depth view of the full Whiteflash commitment to ethical practices and giving back to the community, please see their page on Social Responsibility.
One Year Service Plan
All Whiteflash jewelry orders are backed by their One Year Service Plan. This benefit covers refinishing and repairs to the metals and accent diamonds in your jewelry that are the result of either normal wear or manufacturing defects, for a period of one year from ship date. This comprehensive coverage is a much more solid benefit than lofty sounding but hollow 'lifetime warranties against defects in materials and workmanship'. Who decides anyway? With the Whiteflash guarantee there is no need to determine whether a problem is due to wear or to defects – it's covered. And any actual defects in materials or workmanship will present themselves within a year and will be addressed at no charge under their One Year Service Plan. In addition to alleviating any concerns about potential maintenance costs for the first year, many customers take advantage of the plan to have their jewelry professionally refinished and cleaned prior to their wedding ceremony or special occasion.
Jewelry Insurance
It is always a good idea to consider personal jewelry insurance for your protection in the event of accidental loss, theft, or damage. It is also important to understand what your policy does or does not cover. Whiteflash exclusively endorses Jewelers Mutual Insurance Company for competitively priced, comprehensive all risk coverage. Their policy covers minor damage such as broken prongs and missing accent diamonds as well as major damage, theft or loss. While Whiteflash does not sell insurance but understands that their customers often do want the peace of mind that comes with a personal jewelry policy. And they make it easy and convenient to access that coverage through special functionality. With your purchase of Whiteflash diamonds or jewelry you will have the opportunity to get free quotes and bind coverage with just your Whiteflash order number, and without the expense or inconvenience of obtaining an outside appraisal.
Without a doubt, the Whiteflash Guarantee represents the greatest set of protections and benefits available in the diamond and fine jewelry market today.
Go to Whiteflash.com now and get your perfect diamond ring.