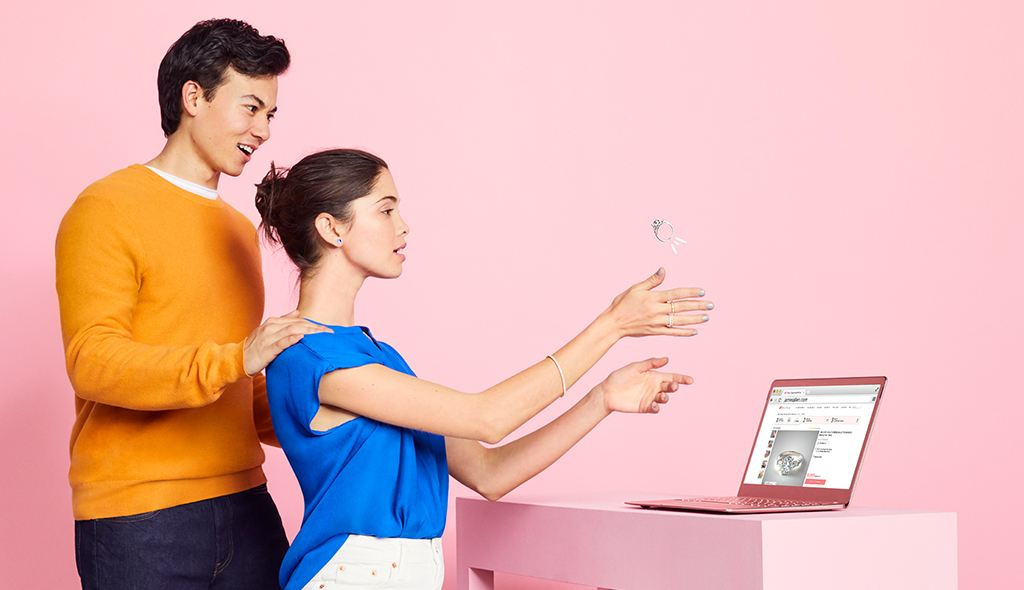 Why it's a great idea to design a ring together as a couple.
Have you ever taken ages to buy someone a gift?
I know I have!
And I am sure you have received the occasional gift, that, well, let's say, was not a great success.
An engagement ring is so much more than a gift. It represents an important connection between two people.
So this is something you want to get right.
When choosing an engagement ring there are many factors to consider beyond price. After all an engagement ring is going to be worn and proudly displayed for all to see.
Start With The Basics
It won't hurt to have a basic understanding of the 4C's. This way you will get the most out of this article. If you are completely new to diamonds please check out: The Complete Beginner's Guide to Diamond Engagement Rings.
Satisfaction On The First Try

Choosing a ring together means that your chances of having to send the ring back for an exchange are exponentially reduced. It's already going to be a style that both have agreed on. Right there you've eliminated one of the most common reasons people send their rings back for an exchange. The four prong simple solitaire, as pictured above, is commonly chosen either because of the attractive price, or because it has the classic look of an engagement ring and is not too flashy. But if this design hasn't been agreed upon it may be returned for a setting with six prongs, or any other variation. The reason often given for prefering six prongs over four prongs is because the additional prongs give the impression of being more secure. It's quite rare for a four prong ring to drop its diamond but technically it is more vulnerable. It only takes one prong to get seriously bent out of shape for the diamond to become loose. Yes it's rare, and the overall risk depends on how active a person is. Yet this is a consideration that may not be thought of if only one person is involved in choosing the ring.
Shows Respect For Each Others' Opinions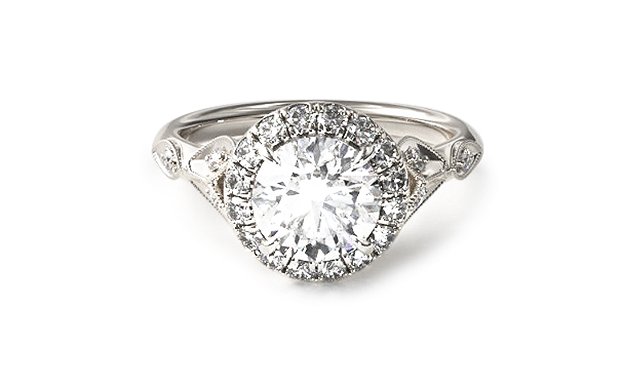 Starting the important life journey of legally becoming a couple with respect for each others' opinions is a good foundation on which to build. Reaching a decision through discussion and open honest communication at this point in the relationship is key to building a strong, long, and loving relationship.
A Great Start To Life Partnership
Traditionally a man has chosen a ring on his own and the proposal is often kept under wraps until the last minute. This was the way of the world for a long time. But things have changed a great deal since the 50s. Marriage has become more of a partnership than an ownership. I'd like to think that the ownership style of marriage is a thing of the past. If you agree with this idea then it won't be hard for me to convince you that choosing an engagement ring is something that should involve both partners.
Two Are Better Than One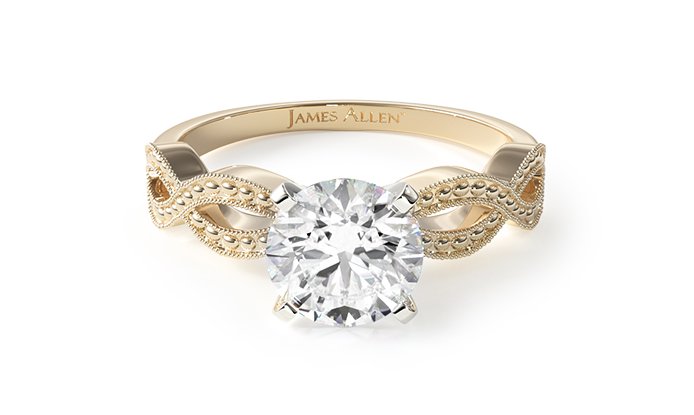 I'm sure you have heard the expression "Greater than the sum of its parts". This is almost invariably the case then you work things out together. When you discuss anything you will find that just the act of talking about the topic in question forces both parties to think about additional aspects which they wouldn't have thought of had they not begun discussing the issue. Discussion helps bring up points that neither person had thought of earlier. You just never know what might come up. For example maybe one partner is aware of hypoallergenic metals, while the other may have only been thinking about the diamond itself. The shape and quality of the diamond is of course important, but making sure the ring is comfortable to wear is equally so. Another important issue to discuss should be lab created diamonds. One partner may be ok with lab created diamonds while the other one may not have even considered that as an option without it being brought up in discussion. Whatever points are brought up during the planning stage you can bet your bottom dollar that one person would not have thought of all of them.
It works!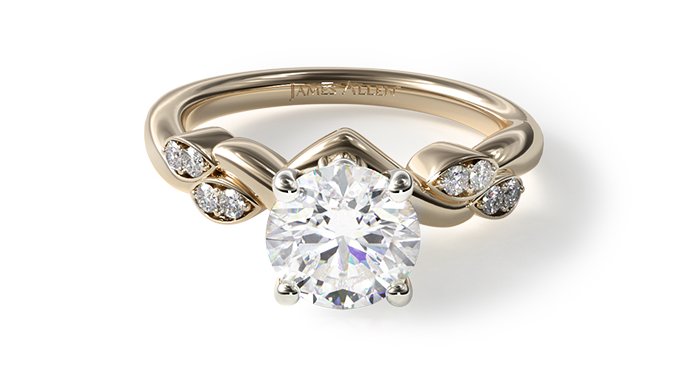 James Allen informs us that the couples choosing rings together couldn't be happier! Many of their customers have chosen to design a ring together. Does it ruin the moment of proposal? Not at all. Some decisions can still be a secret, like where, when or how the proposal will take place. Plus, they'll be surprised in a good way with a ring they love. Here's what one customer said after designing their rings together.
'We took the modern approach of picking out the ring together. We are so happy with it! – Lea H.'

Summary
In this article I gone over some points to consider when buying an engagement ring and why both parties should be involved. I have used James Allen as an example because I absolutely love their website and they make diamond shopping so easy. You will of course be able to apply the advice in this article wherever you shop. See a list of more online diamond jewelers here.
---
Getting Unbiased Help
Choosing a diamond is a fairly unique experience.
There are many new terms to get aquainted with.
And there are a number of desicions to make, beyond just price.
In order to help you get the best deal, and to understand the differences in quality, diamonds come with their own special lingo.
The basics aren't that difficult to get a handle on.
But there are plenty of technical terms are used in describing the angles of each diamond facet which can easily overwhelm someone even if it is suposed to help you. After all it's there to help you compare stones and find the right stone that makes you happy.
Some people have dedicated their lives to studying diamonds, but the problem is they can sometimes forget to make it easy for others to understand.
And even so it can often see like there's always one more thing you didn't think about.
So if the technical jargon makes your eyes glaze over, you're not alone.
That's perfectly normal!
Don't despair! Help is at hand!

Since most people don't have the time to do a short course on diamonds I have created a free Diamond Concierge Service.
Tell me what you want, and I will find it!
Take the stress out of diamond shopping!
Save time!
Save money!
Avoid wasting time with jewelers that never get back to you!
This is your shortcut to finding a diamond that looks great!
Don't overpay for features you don't even need!
Get the best value for your money!
Get the diamond quality that makes you happy!
Get your questions answered directly from an unbiased source.
Get the best recommendation within your price range.